Salam. Hari nie nak buat entry simple dimple jer,juz nak wish for both of befday boy & girl tu.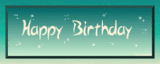 ~May Allah bless both of u ~
~Be a good daughter/son for ur family~
~Hope u all success in ur life~
After mandi tepung+air soflan+telor+etc.
mereka yang sporting join sekali :D
special befday card for
Sally
Melly
100% hand made.
priceless
juz for u!!
Happy biRthday ke-21 tahun.